Gun Enthusiast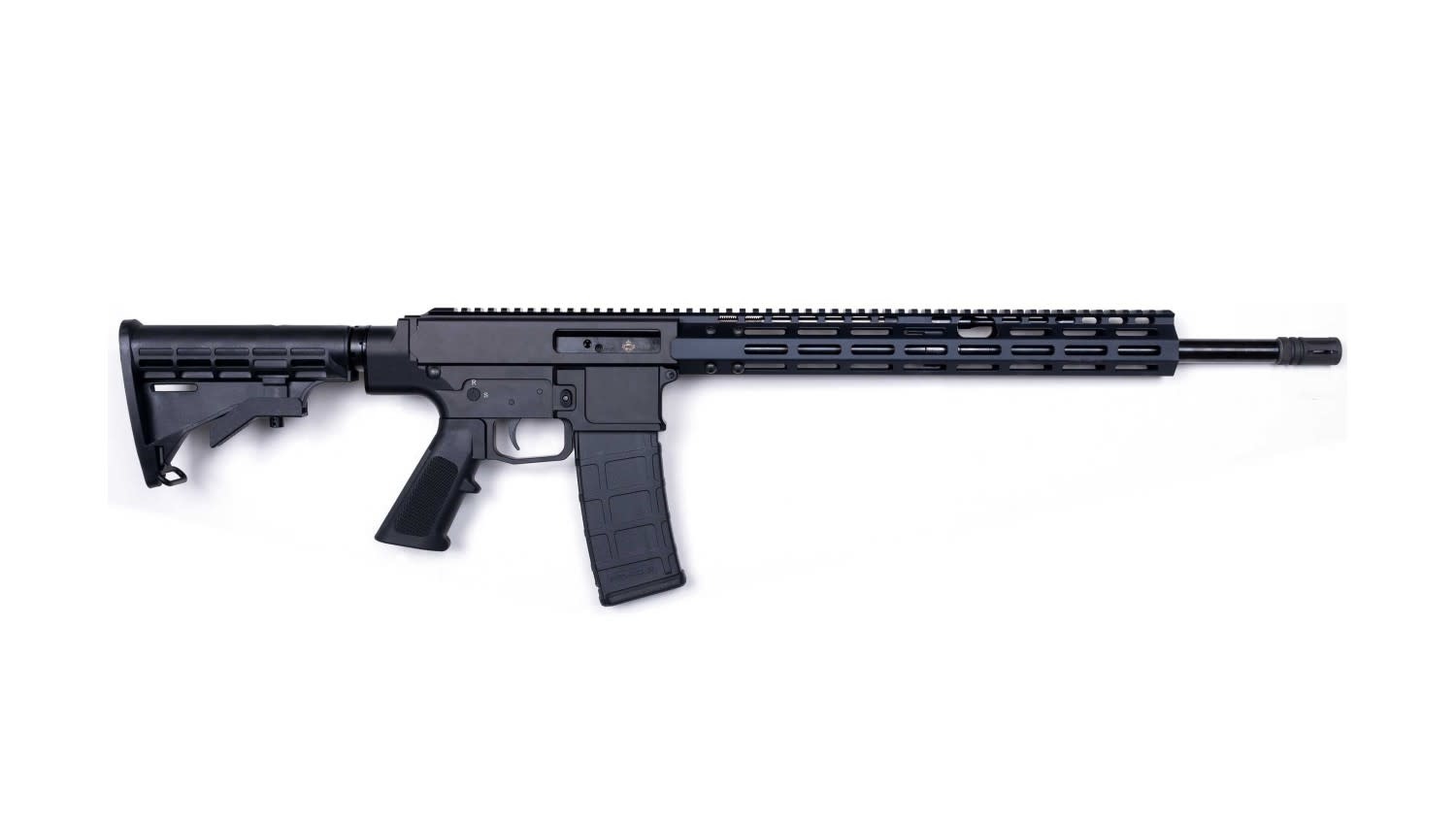 Suggested Item: 5.56 NATO - Kodiak Defense WK180-CG2
The WK180-C is designed and manufactured in Canada by Kodiak Defence Inc, to provide an affordable, reliable, lightweight rifle for recreational shooting. The upper receiver is finished with a 1913 rail to allow the fitting of optics or iron sights, sights not included. Rifle is chambered in 5.56 Nato and 223 Rem. Standard AR15 type magazines are used. The free float railed hand guard allows for the attachment of your favorite accessories.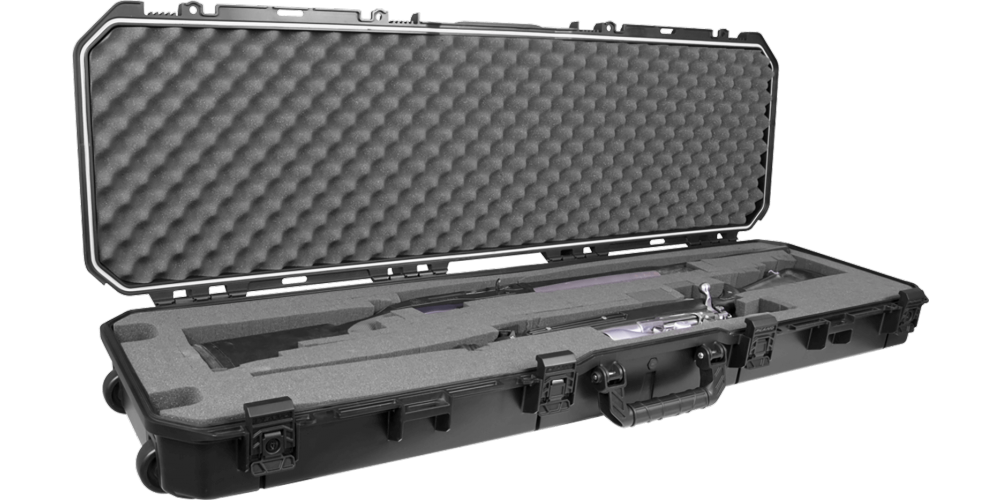 Suggested Item: Plano AW2 52" Double Gun Case
All Weather cases defend your firearms from damage and the elements. We've enhanced some of our best-selling cases with an upgraded look and improved functionality in the AW2 line. They're still your old favorites just better. With rugged, industrial-strength construction and a continuous Dri-Loc® seal, AW2 cases create a watertight and dust-proof shield that protects your gear even in the most extreme conditions. Heavy-duty, dual-stage lockable latches and a built-in pressure release valve also help the cases withstand the continuous bumping and jarring of airline travel.
Suggested Item: HQ Outfitters Fire Rated 24 Gun Safe with Electronic Key Pad
The ideal option for those seeking a heavy walled steel safe with fire protection. Features fully carpeted interiors, patented molded barrel rests with scope standoff inserts, and a variety of locking options. Designed with an optimized door size, access to your guns has never been safer or easier. This 24 gun model also includes a convertible interior with adjustable shelving. Fire Rated: 30 minute fire rating, 1400F/760C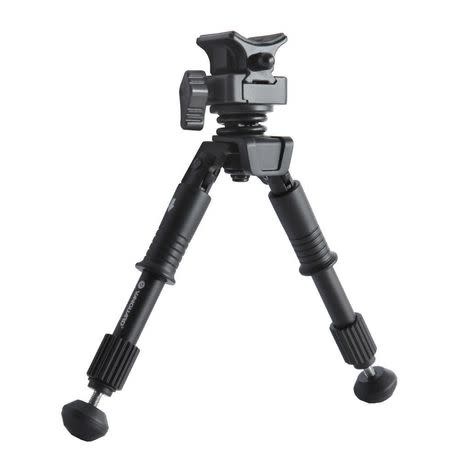 Suggested Item: Vanguard Equalizer 1QS 6"-10" Bipod
 Equalizer QS has a picatinny rail system that allows shooters to attach and detach firearms faster than ever. Hunters appreciate its quick leg deployment. Its Pull and Position leg adjustment system enables you to quickly and safely reposition. A buffer spring reduces shock and vibration while providing a solid shooting base. It has a pivot tilt of 0 to 5 degrees and a -30 to +30-degree swing angle. Equalizer QS takes on an array of terrains with feet that convert from metal spikes to rubber. Equalizer 1QS is designed for prone position shooting.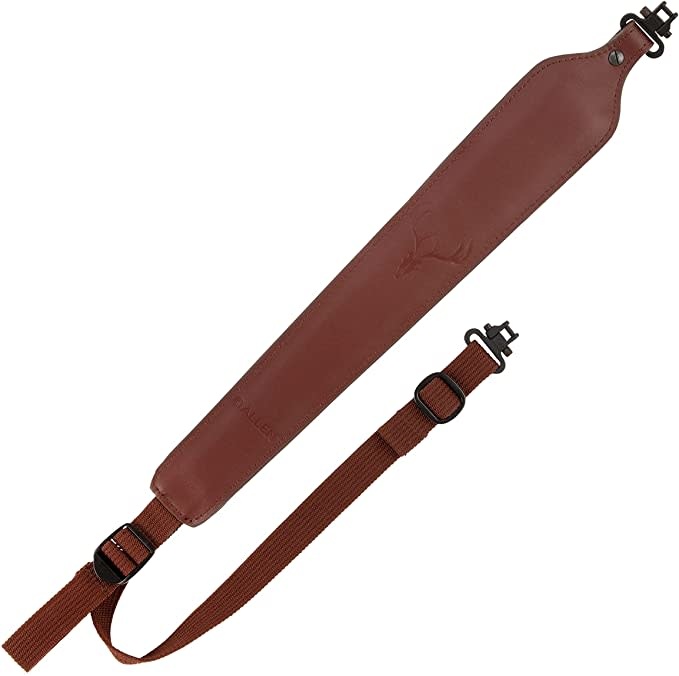 Suggested Item: Rifle Sling Embossed Padded Leather, Deer W/Swivels
Allen's Cobra Tanned Leather Rifle Sling has a full grain leather face and suede lining. With a heavy-duty web strap, this sling is designed for one hand adjustment. Swivels tested to 300 pounds.
Suggested Item: Hoppe's BoreSnake Rifle Bore Cleaner
Great for quick cleanings when out in the field, doing lots of shooting or putting away the gun in storage. One pass loosens large particles, scrubs out the remaining residue with a bronze brush, then swabs it all spotless with a cleaning area 160x larger than a standard patch.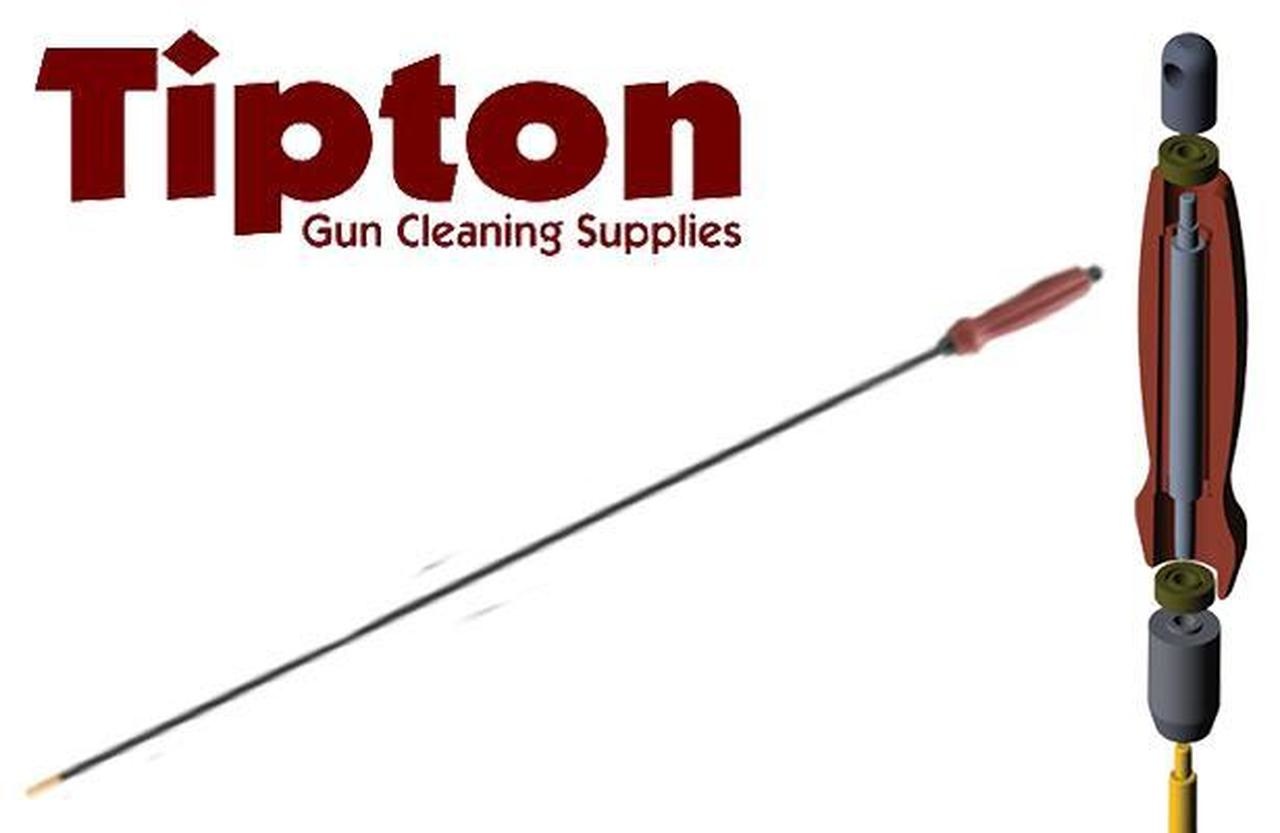 Suggested Item: Tipton Carbon Fiber Cleaning Rod 1pc
Carbon fiber is well-suited to the tough tasks assigned to cleaning rods. It combines the best features of stainless steel and coated cleaning rods, then adds valuable properties of its own. The carbon fiber can't scratch your bore like stainless steel, and they won't embed like coated rods. Plus, Carbon Fiber rods can be bent to an extreme degree and return to their original straightness.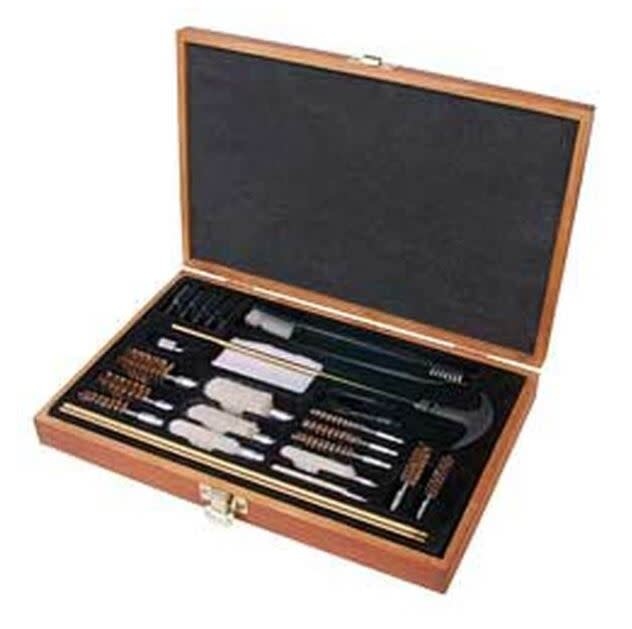 Suggested Item: Outers 28 Piece Gun Cleaning Tool Box
Comes with all the basics that they would need for cleaning there guns. Caliber  Cleaning Supplies for 22-cal, 270-cal/7mm, 30-cal/8mm, 9mm/.38/.357, .40-45 cal/10mm, 410-ga, 20/28-ga, 10/12-ga.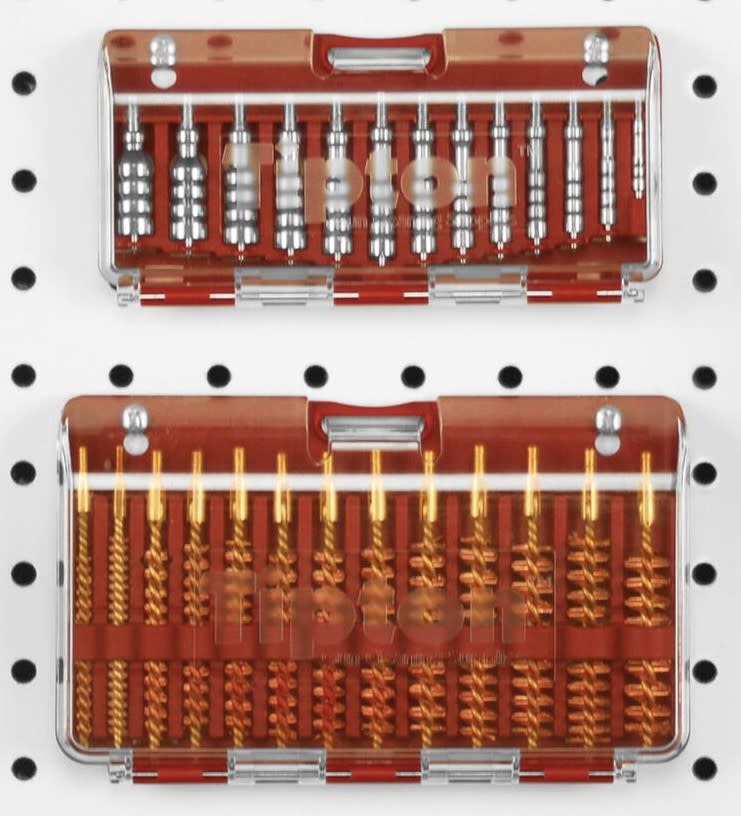 Suggested Item: Tipton Jag and Brush Set 26pc
Combining the Ultra Jags and Best Bore Brushes into one convenient 26-piece set gives you the ultimate storage system for your brushes and jags . Neatly organized in a durable hinged box with marked cavities, it's easy to select the correct jag and brush for the job. Since they are caliber-specific you can be assured of an optimum fit to your firearm's bore for efficient and thorough cleaning. 17 to 45 caliber (does not include 20 caliber). All jags and brushes have 8-32 threads (17 caliber has 5-40 threads and is a standard bore brush)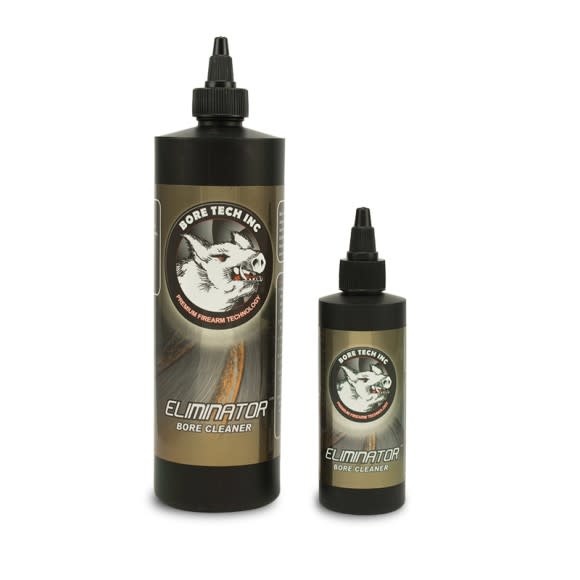 Suggested Item: Bore Tech Eliminator Bore Cleaner
Bore Tech Eliminator Bore Cleaner is the premier, state of the art bore cleaner that has taken the shooting industry by storm. The revolutionary and patented formula is 100% barrel safe, biodegradable and easily outperforms the competition. Eliminator rapidly removes carbon and copper fouling without the safety hazards, harmful toxicity, and unpleasant odors found in competitive cleaners.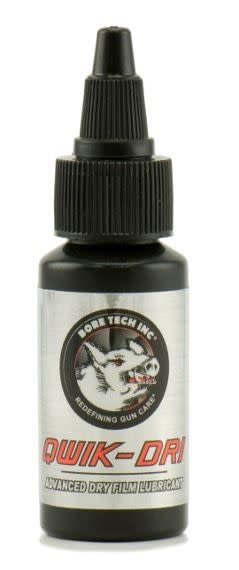 Suggested Item: Bore Tech Qwik-Dri Dry Lubricant
Bore Tech Qwik-Dri™ is a cutting-edge dry film lubricant composed of submicron PTFE particles in a quickly evaporating carrier. Tef-Dri is able to penetrate deep into metal pores and bond with the surface, leaving a tough, long lasting, dry film lubricant behind. This extremely slick coating is unsurpassed in performance. Repels Dust, Dirt & Debris. Decreases Friction & Wear By 95%. Non-Oily, Mess Free Dry Lubricant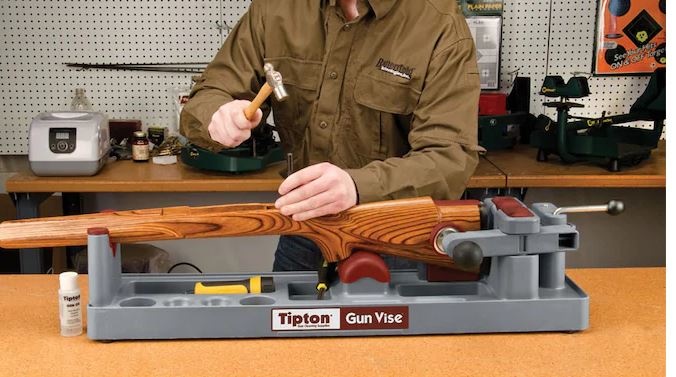 Suggested Item: Tipton Gun Vise
The Tipton Gun Vise uses a rubberized cradle and jaws to gently and securely hold your firearm for safe and efficient gun cleaning, scope mounting and routine maintenance. All contact points are padded to prevent damage to wood, synthetic or metal surfaces. The unique quick-cam action quickly and easily secures most long guns. The sturdy base features molded-in compartments for cleaning supplies and small parts. This vise also features a convenient slot for your cleaning rod, two holes for large bottles of cleaning solvent, two small holes for smaller bottles, two shallow dished holes for small parts and a large cut out for the rifle bolt.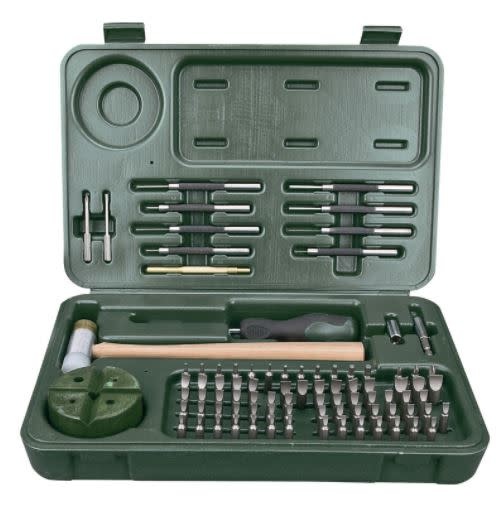 Suggested Item: Weaver Deluxe Gunsmithing Tool Kit
Whatever your skill level. Whatever your needs. We have a professional-grade gunsmith tool kit for you. If you are an accomplished gunsmith, the 88-piece Deluxe Tool Kit is right up your alley. There's a punch set, hammer and bench block added to the Multi Bit for a complete kit for the professional or at-home gunsmith. Each kit comes with quality bits and driver.
Suggested Item: Scorpion Boresighter Kit .17-.50 cal
A bore sighter is essential for aligning and zeroing your scope for a preset distance. Scorpion Optics' 16 piece kit includes arbors for .17, .22, .243, .25, 6.5mm, .27, 7mm, .30, .32, .338, .35 , .375, .44, .45, and .50 Calibre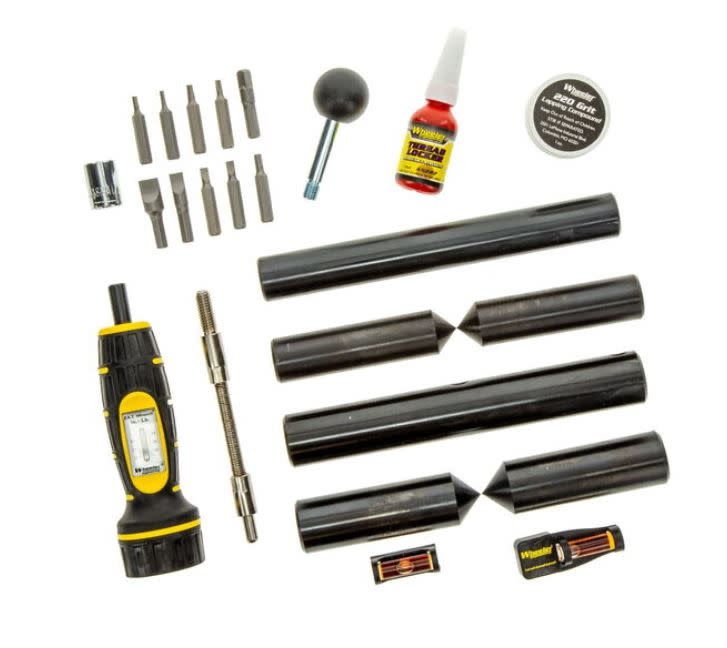 Suggested Item: Wheeler Professional Scope Mounting Kit 1" and 30mm
This complete kit provides everything necessary to mount virtually any 1-inch or 30mm scope with professional results. Proper scope installation is critical to the accuracy of your firearm. Kit contains Alignment Rods, Lapping Bar with Handle, Lapping Compound, Level-Level-Level, Thread Locker, FAT wrench with bits, and hard storage case.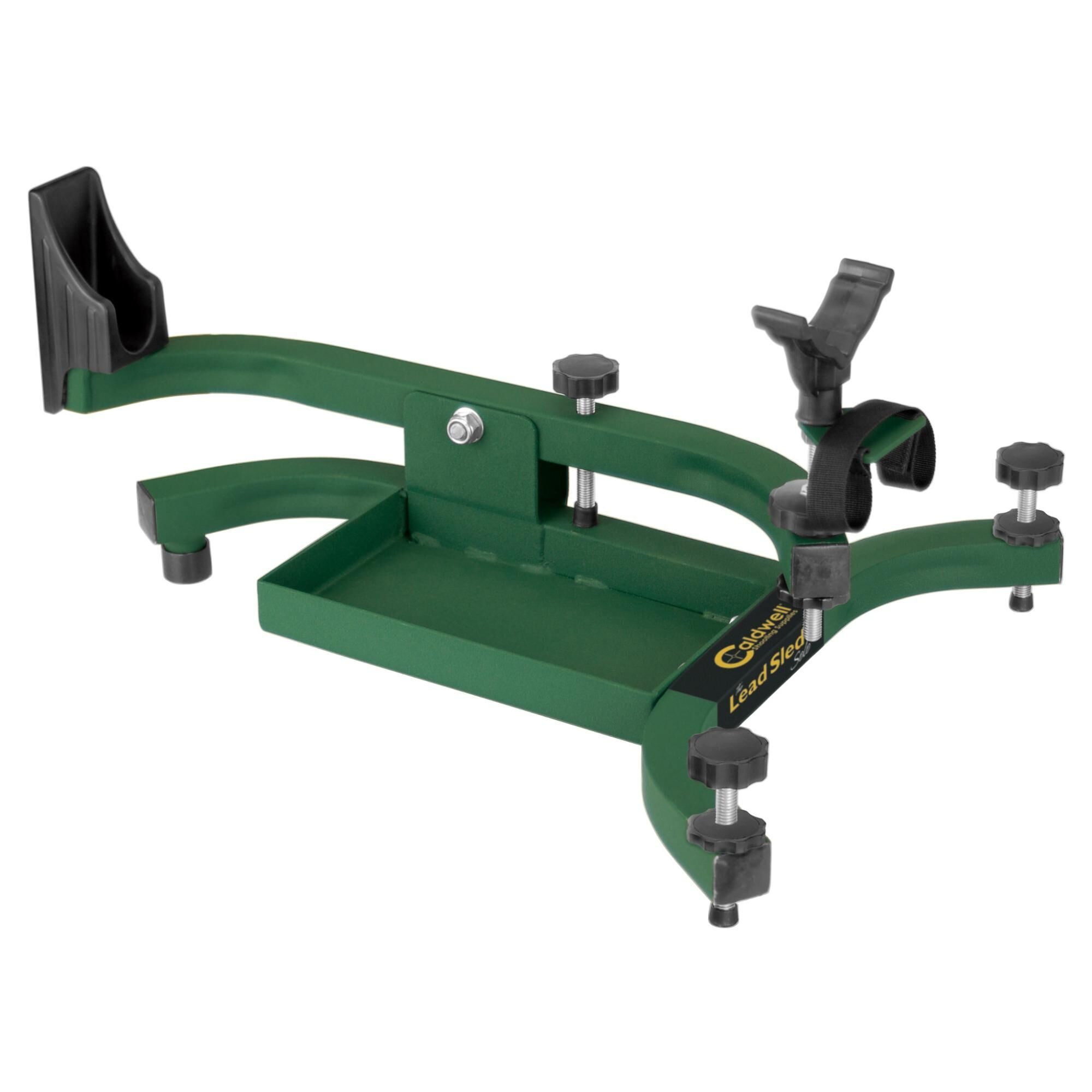 Suggested Item: Caldwell Lead Sled Solo Rifle Rest
The Lead Sled Solo is the perfect shooting rest for sighting in any rifle or shotgun. Its unique offset frame is designed to accommodate all rifles including detachable magazine rifles like the popular AR-15 platform as well as lever action guns. The heavy-duty steel construction provides a stable and solid shooting platform. A smooth pivoting elevation system is controlled with a single knob adjusting onto target fast and precise. The front support is height adjustable and has a durable rubberized coating made to not scratch or mar your gun.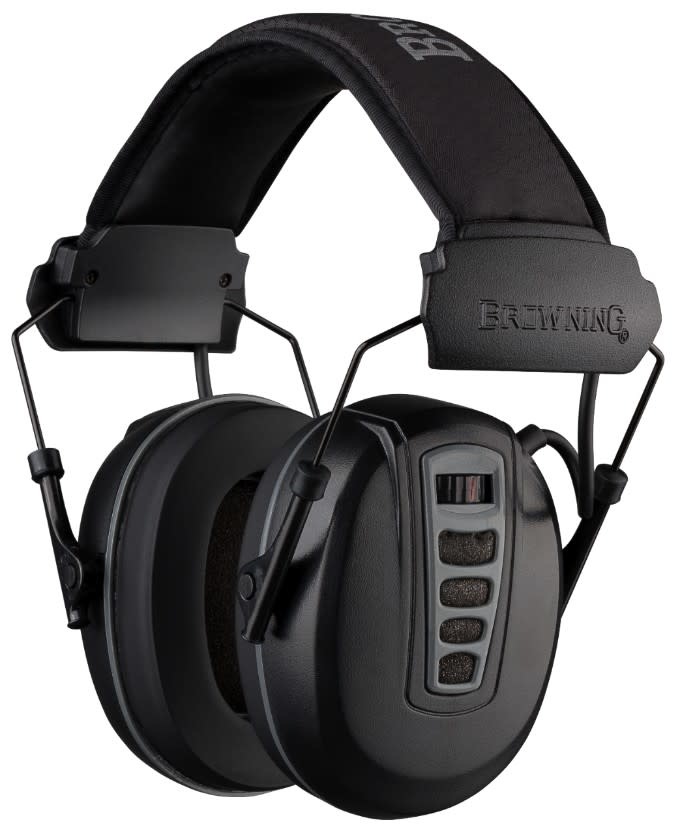 Suggested Item: Browning Cadence Electronic Hearing Protection
The Cadence utilizes soft cups to ensure a comfortable fit that also gives a superior seal against the harmful noise that may bypass earmuffs designed with inferior materials. The amplification cutoff circuitry design exceeds the competition by reducing the audible cut-off time to ensure that you can still have a conversation without unnecessarily long audio interruptions, all while providing near constant protection from high decibel noise. Don't compromise your safety by being unable to hear vital instructions or warnings due to poorly designed electronic hearing protection.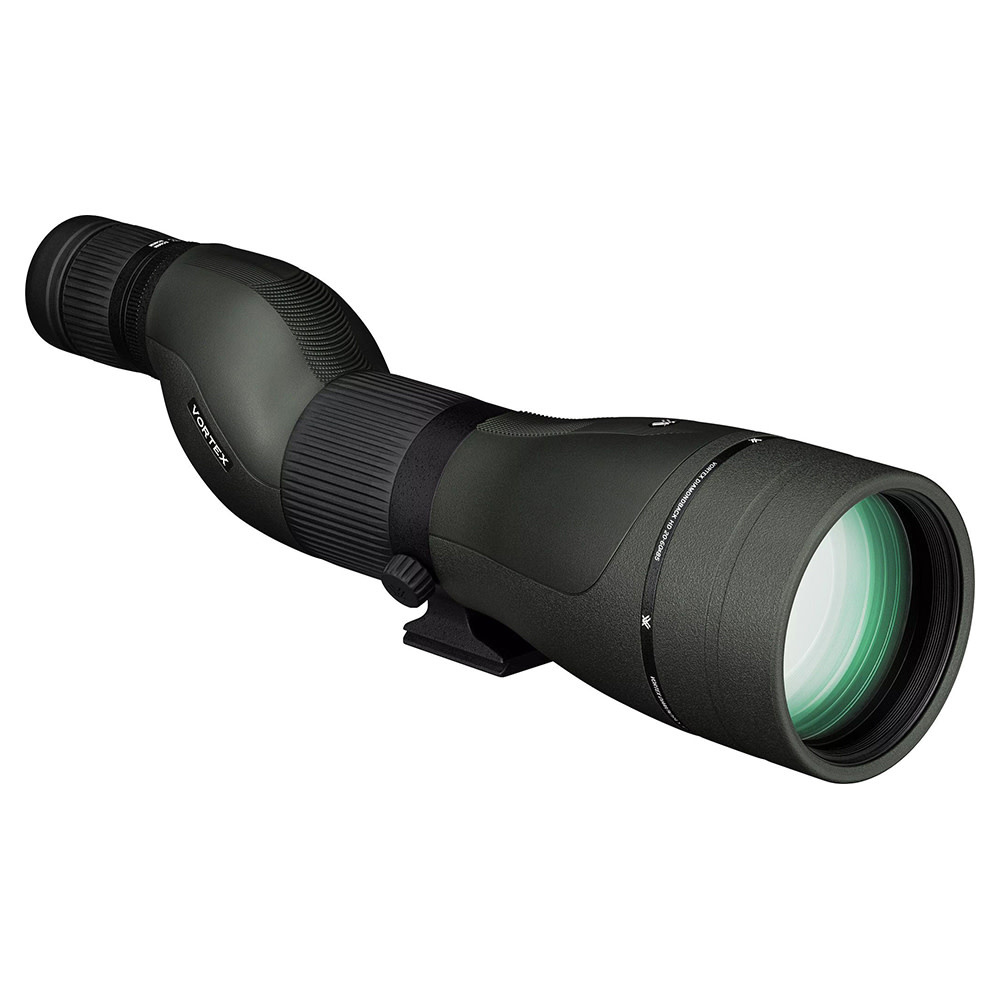 Suggested Item: Vortex Diamondback HD 20-60x85 Straight Spotting Scope
Glassing out west demands an HD optic, but other systems can't get you the clarity you need to see a tail twitch in low light, or pick a tine out of dense cover. The redesigned Diamondback HD spotting scopes have all the horsepower the long-distance hunter needs, and they excel in low light—right when you need it most. We've also streamlined the exterior for a sleeker, snag-free profile, building in a helical focus wheel.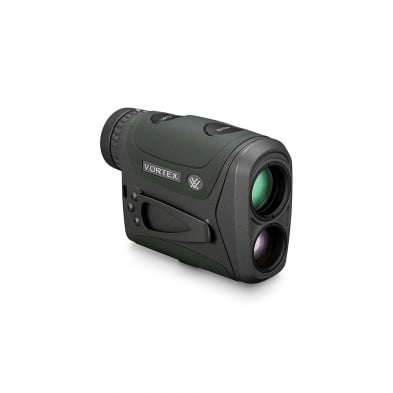 Suggested Item: Vortex Razor HD 4000 Rangefinder
The Razor HD 4000 is the essential companion for the extreme hunter, archer and shooter. The extremely effective angle compensated laser rangefinder features four targeting modes (Normal Mode, First Mode, Last Mode and Extended Laser Range Mode) for any ranging environment. The primary HCD (Horizontal Component Distance) range mode provides key angle compensated range information required by the vast majority of shooters in a simple, quick to read display. The Razor HD 4000 also has a LOS (Line of Sight) range mode and scan feature.
Suggested Item: Longshot HAWK Smart Scope - Spotting Scope Camera
The Hawk spotting scope camera is the next evolution of digiscoping, it turns any camera spotting scope into a smart scope in just minutes. Simply slide the hawk over the eyepiece of the spotting scope camera and open the TargetVision app on a smartphone or tablet to view the video camera feed and unlock all of the app features (track and number shots, save photos, review sessions, record video and stills). Seeing your shot has never been easier.
Chronograph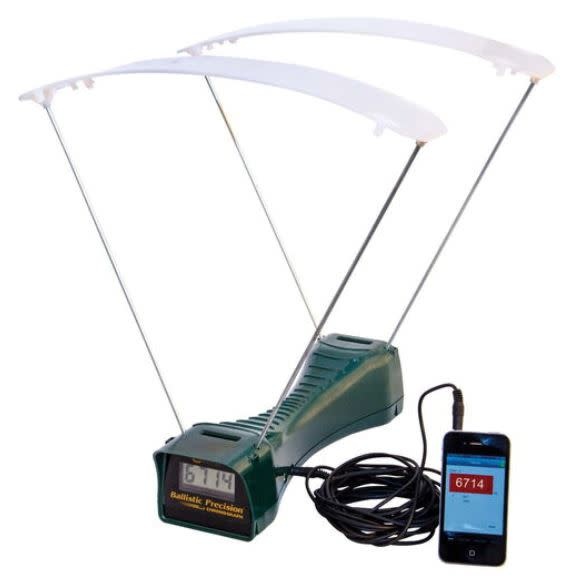 Suggested Iteam: Caldwell Ballistic Precision Chronograph
The Ballistic Precision Chronograph provides accurate velocity measurements across a wide range of shooting conditions. Higher accuracy was achieved by using a high speed 48 MHz processor and by designing a circuit with an advanced data interface that allows each unit to be computer calibrated at the factory after assembly. The end result is the ability to provide much better accuracy than other chronographs on the market (+/- .25%). Although technologically advanced, the unit is designed to be simple to operate, displaying velocity in Feet per second or Meters per second on the large built in LCD screen. The chronograph can also deliver the shot string velocity data through the 15′ foot audio jack cable (included) to smartphone/ mobile device. A free App is available for download that displays the velocity of each shot on the phone screen and records it with other data identifying the load and environmental conditions.
Suggested Item: Allen EZ Aim 10" Self Healing Gong Target
EZ Aim Target Shooting Systems will challenge any level of shooter with the most comprehensive options in the industry. Gong is Made from Self-Healing Polymer so it Can Withstand Hundreds of Rounds.
Suggested Item: Champion Easybird Autofeed Trap
Save your arm and become a better shot with an affordable automatic trap that offers reliable, portable shooting practice wherever and whenever you want. The EasyBird® Auto-Feed trap offers a detachable 50-clay magazine, 1-second cycle time and 50-foot release cord with foot pedal for everyday use.